Click here to add your text.




  Books written by Michael J. Kouri

Here are some of my newest releases and a glimpse at what I'm currently working on: 

Welcome to Rancho El Rincon de San Pasqual named in  the 1700's by the Spanish Crown. The original land grant included :  north east Eagle Rock, north  east Highland Park,  Altadena,  Pasadena,  South  Pasadena, San Marino and portions of Sierra Madre, California. 

Michael  J.  Kouri,   an  excellent  storyteller  and  historian,  creatively  describes  his unique  research  associated  with  the   investigation   of   legendary  haunted houses throughout Pasadena, California. You thought we were only known for the Rose Parade, the Rose Bowl, Victorian and Craftsman houses. But the truth is the Pasadena, one of the most Haunted cities in the country. Take a tour with Michael and see these haunted mansions yourself. Visit our Tour Page for the current calendar. Gift certificates available.

For the very first time, Michael reveals the truth related to the   tales  most assumed were mere urban legends. He and his team of  scientists and psychics  alike reveal  the  hidden  truths related to those spirits who haunt their former lodgings.  From houses to bridges, hospitals, and haunted  churches   and  even  a  haunted  department  store, you'll be amazed at the knowledge you'll uncover by reading Haunted Houses of  Pasadena.  The 4th edition is almost gone forever so be sure to order your copy Today! Over  300 pages and  400  photographs. 

Each book ordered directly from this website comes hand signed &  numbered by 

Michael  J.  Kouri, himself.  

Excerpts from this compelling book:

Phantasmal Sightings at Pasadena College:

A   misty  ectoplasmic  figure   resembling  a  woman  is   seen  dressed   in    a   flowing  turquoise   gown  is  reported  floating  down  the  halls  of   the  second  story.   She's  always  seen  around  1:00pm. She smiles at  those   who   catch   her   glimpse  before  slowly dematerializing  in  front  of  them --  everyone who reports her image hear a woman's laughter as she disappears from their shocked view....

Journey  underground  to  a  secret  tunnel under our most famous haunted hotel (that until now has only been a myth) and re-live the spiritual accounts of a Top Secret Naval Base who's secrets of the past have never before been discussed or written about until now.  Learn why those who worked and died there feel the need to keep the "ghostly secrets silent" until Michael J. Kouri began his research. 

Haunted Houses of Pasadena has been hailed as a masterpiece by national historians and paranormal societies alike But copies of this 4th Edition are almost gone. Be sure to get a copy for yourself before they are gone forever.  You'll love reading this book!

             True Hauntings of the San Gabriel Valley

       "A Psychic Mediums Encounters With Real Ghosts Who Walk Among Us"

     Join Michael on a tour of the San Gabriel Valley's most haunted abodes in this Marvelous new book. You'll learn of the ghostly birthing houses in Glendora, Haunted hot spots in La Verne, San Dimas and ever city in between. Read the chapter about a seance Michael held with 7 other psychics and you'll feel as though you're actually there with them.   Michael  J.  Kouri  world renown psychic/medium and his  team  of  haunted  house investigators would love to have you join them by reading this book.  Visit the homestead of Henry  Dalton,  the  first man to buy property in California and receive a bill of sale by the Spanish crown and who is still seen roaming  throughout  the  valley in search of the squatters who store his  land  for  their  own,  stole  his  water  rights  and  left he and his family  in  financial ruin over 200 years ago.  You'll learn about some of  the  most  unusual  encounters   with   ghosts  that  neighbors   and visitors  haven't  dared  to  share  until now...See an effigy created upon  the  death  of  one  of  Henry  Daltons  children  (who drowned  in a tanning  pit full of acid),  with  her  own human hair, her eyelashes and even her fingernails then the doll was  placed  in  her crib  and included in family  gatherings  until the last of the Dalton clan was dead. Where is the doll now and why are so many afraid of it?  Michael has photographs of this haunted marvel believed to be haunted by the spirit of the child.

     Famous author of ghost books, Richard Senate highly recommends Michael's books: "True Hauntings of the San Gabriel Valley is another of Michael J. Kouri's masterpieces filled with historical facts as well as paranormal information. Michael always takes us into well hidden nooks and cranny's no one else  has  ever  read about until  they get one of his books.  Dare to read about  the weirdest  and  bizarre  tales of fate, look for buried treasure that was left behind by Spanish soldiers during the Mexican/American war, but  be  careful cause their ghosts come  back  each year in search of it.  Care  to  visit  one of  4 cemeteries in the San Gabriel Valley   where   the   spirits  of  the  past,  present  and  future  roam aimlessly in search of eternal peace?"

   Feel the  "cold spots"  felt by both the living and the dead and  try  to  catch   a  glimpse  of   Rudolph  Valentino  who's seen riding  on  one  of  his  prize  winning Arabian horses throughout the hills of Glendora one of his favorite get-away escapes in the roaring 20's.  

Haunted Houses of Monrovia  Chronicles the most haunted hotels, houses, schools and other average every day places that all have ghosts. Dare to walk along Myrtle avenue but keep a watchful eye open for  the Ghostly  marching  band who is said to appear to hundreds  during  the  Winter  holidays  then  drop  by  a haunted  pet  store  where  spirits of all shapes and sizes dwell.   Be   sure  to  visit  Mystic  Sisters  bookstore  and browse   the  back  room  where  a  ghostly  construction worker  pops  in  and  out  now  and  again  and visit the homes  of  the  city founders who are said to wander the halls  in  search  of  their  deceased  children.

The  hills  are  full of spirits including a wicked old witch who once lived on Hillcrest Drive and who many believe still haunts in search of her black cat "Salem." Check  out  the Haunted House tour page for a NEW and exciting tour of Haunted Monrovia. This is a very limited edition.     Get  a  copy  before  they're  gone  for  good !

Ask your favorite bookshop if they carry these exciting titles written by Michael J. Kouri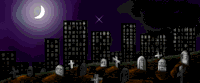 Michael J. Kouri's books are highly recommended by prestigious Parapsychological experts:

Michael J. Kouri's   Haunted   House   books   provide   a gaggle   of   ghostly  encounters   for   the  armchair  ghost hunter. Kouri mixes his frightening tales with liberal doses of  local  history  and  lore  making  this  work an important  resource   for   anyone   interested   in   the   supernatural specters outside of Los Angeles in the San Gabriel Valley.  Mr.  Kouri  has  compiled  a  list  of  haunted  houses, from Lucky   Baldwin's   Queen   Anne   cottage  to   Pasadena's Gamble  House,  where  the ghost of Aunt Julia welcomes guests to this very day and Glendora's first birthing house where  phantom  babies  cry.  He   includes   ghost   ridden cemeteries and even a ghost town where the past seems to come alive.

  Michael  J.  Kouri,  an  excellent  storyteller and historian, provides bone chilling tales not recommended for the faint of  heart  or  those  who   are   fearful   of  ghosts   and   the unknown -    you    might   not   want   to   read it after dark!                                  - Richard Senate Author of:

                                 Ghosts of the Haunted Coast

                                 &  The Haunted Southland

  Many  books  have  been written about haunted houses and the paranormal, however,  Michael  J.  Kouri presents his material from the viewpoint of the spirit.    Do discarnates feel and think?   Do  they  continually  suffer ? Does death automatically promote them to paradise or, as some believe, to the depths of the Under-World?   It  is my hope that his books will reduce many of the old  crippling fears and provide a new rationale to replace  centuries  of superstition and limitation.            

                                - Dr. Hazel M. Denning Ph.D. Author of:

                               True Hauntings Spirits with a Purpose

Michael J. Kouri is not only a fine psychic/medium, but he has  a  wonderful  talent  for  writing.  Haunted  Houses of Pasadena   is   an  important  contribution  to  the  field  of parapsychology. - Dr. Patricia L. Kubis Ph.D.  Author of:                                            Conversations Beyond the Light

And from those who enjoy reading about real haunted houses....

" What a fantastic collection of ghost stories perfect for the campfire or just to have around the house for casual entertainment. I couldn't wait to get my copy of this long awaited book. I recommend it to all my friends in school."

-Alyssa Milano, Los Angeles, Ca.

" Another Triumph by my favorite Haunted House Author! Three cheers for Michael J. Kouri and Haunted Houses of Orange County. I especially loved the stories about the ghosts of animals in our county."

- Margie Stallen, Orange, Ca.

" I've lived in Orange County all of my life and had always heard the stories of the Lady in Pink who haunts Yorba Linda, but I never knew how she died or where until I read this fascinating created called Haunted Houses of Orange County. I could hardly put it down."

- Thomas Mallory, Yorba Linda, CA

"Not only is Michael J. Kouri an awesome Story teller, but an incredible psychic/medium too. I hired him for a private reading and was blown away by his incredible accuracy of my life and that of my deceased husbands. Haunted Houses of Orange County is a wonderful collection of stories associated to real spirits and the buildings they choose to haunt. I loved reading about the house that should be haunted in Fullerton and the chapter titled Haunted Museums too. You will love this book if you're interested in parapsychology or ghostly curiosities...."

-Helene Bremmer, Fullerton, Ca.

" I can hardly put Haunted Houses of Pasadena down. Michael J. Kouri is an excellent story teller, but what makes this book so compelling is that the ghost stories are true."     

- Janet O' Brien, Boston, Mass.

"I don't believe in all this stuff, but enjoyed reading about the exciting adventures that Michael and his Psychic Team Encountered, I just shivered as I read every word!"    

- Angela Nichols, Santa Monica, CA.

"Haunted Houses Within the Azusa Township is a fantastic history book, I learned so much about the founders of my area and recommend this book to all of my students.  

- Suzanne Cartwright, Glendora, CA

I loved Haunted Houses of Monrovia since it explains what ghosts are, why they haunt and that they aren't the scary macabre monsters that others would have us believe.          

- Christina Strauss, New York, N.Y.

"I have read everything Mr. Kouri has written and have taken his tour of Haunted Pasadena. What a wonderfully talented person we have living among us."            

- Johnathan Taylor, Los Angeles, CA

"Haunted Houses of Pasadena is another Triumph by a fine historian and story teller - Michael J. Kouri - You won't be able to put it down."   

- Liz  Edleton, Pasadena Star News

" Wow,  Haunted Houses of Pasadena is a real Winner when it comes  to  a  comprehensive book about real haunted places! I couldn't  believe  how much historical accuracy this author gave his readers along with very interesting anecdotal accounts of spirits who haunt the very places we Pasadenans call home.

What an asset to our heritage. His Haunted Houses of Pasadena Walking Tours are also just an intriguing and interesting." 

No wonder so many people believe that he still haunts his land to this day, I enjoyed reading about Rudolph Valentino who is said to haunt parts of Glendora as well as the ghost of Lucky Baldwin who haunts in search for the love of his life and the ghost of Lucky's poker pal turned outlaw Jessie James who appears in the old train depot at the Los Angeles Arboretum from time to time. This book is a must have for every ghost book collection"

-Arthur Medford, Saint Augustine, FL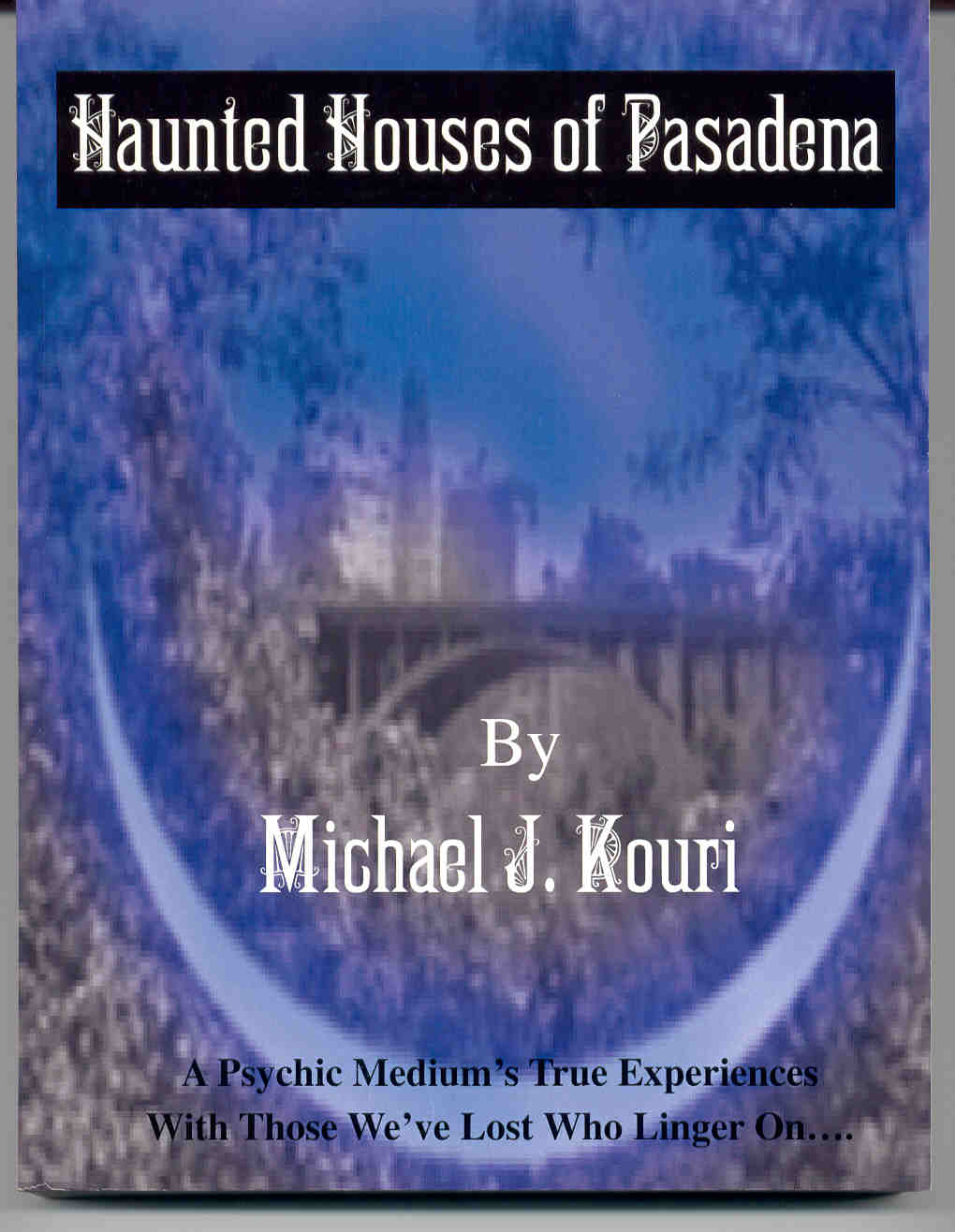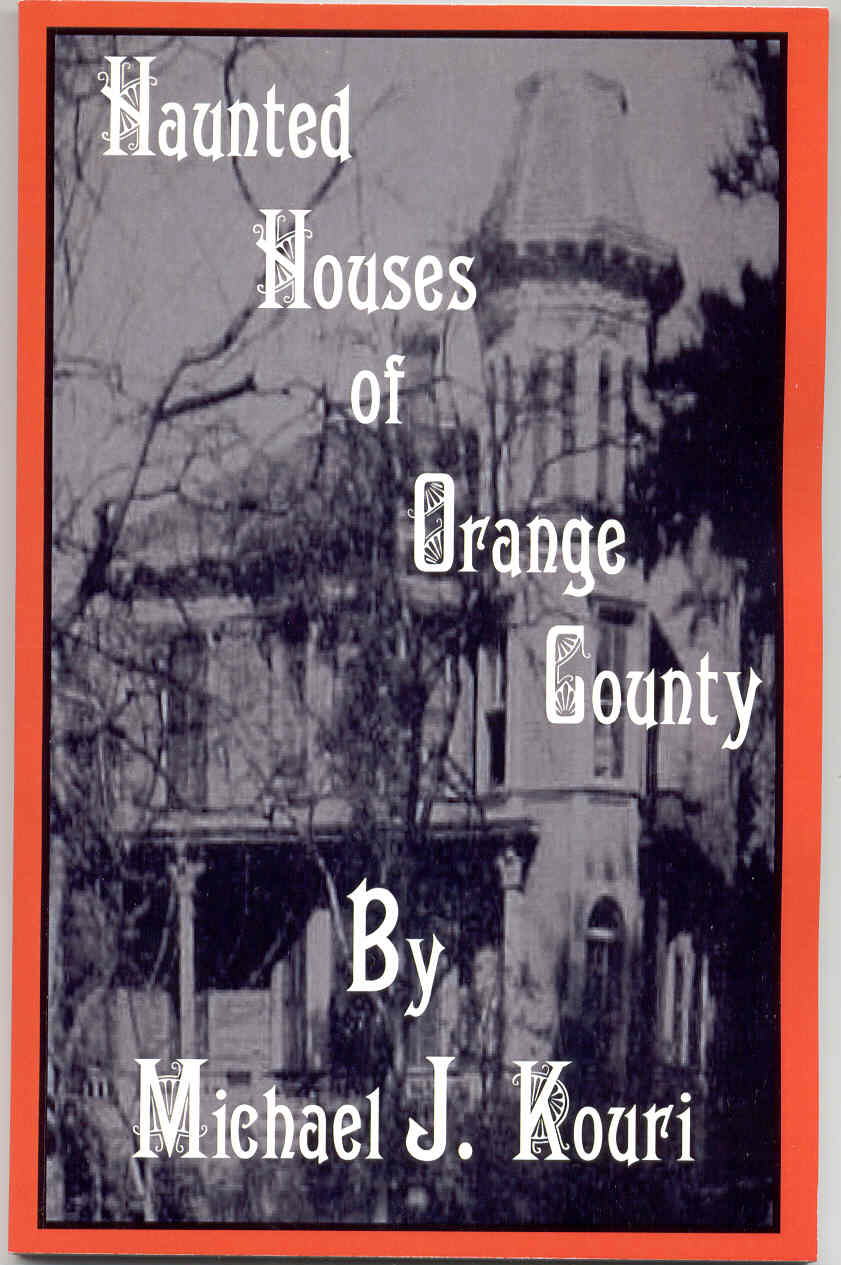 Michael J. Kouri has Done it Again! Haunted Houses of Orange County is the only book of its kind to reveal the tales associated with the county's most haunted abodes including the Creepy Willella Waffle House in Santa Ana as seen on The Real Orange Television show, and heard about on Coast to Coast, KROQ, KOST and other Radio shows, Michael is the first person to investigate and chronicle his personal encounters with Real Ghosts who Haunt Orange County, California. His book is Filled with photographs of real ghosts and the houses they haunt, You'll read of spirits who wreak havoc from La Habra Heights to San Juan Capistrano and every city in between. Who is it that haunted Hauntington Beach? Learn about the hauntingly historical accounts of such famous land barons as Jose Yorba, James Irvine, Walter Knott (of Knott's Berry Farm) and Walt Disney founder of The Disneyland Resort.

The history included is astounding! You'll read true accounts of their employees who've seen, heard, smelled and felt the presence of their former employers in their decomposed state. - you only thought Disneyland's haunted mansion was the only haunted attraction-I've personally interviewed over 180 employees, designers and art directors and Disney family members who claim to have seen Walt's ghost in the park.  Is it a coincidence that the two most famous men in modern Orange County were named Walter and owned amusement parks here or is it a psychic coincidence? 

   Some people believe that Orange County has more spirits than any other city in the Country. Do discarnates feel and think or are they simply a glimpse of someone's imagination? These are just a few of the questions Michael J. Kouri answers in his New book Haunted Houses of Orange County. Take the family on the Haunted Houses of Orange County Walking Tour if you don't want to wait for the book's release...

We Welcome Mastercard,Visa or Discover Credit or Debit Cards when placing your order with us directly - safe and secure.

Take the Haunted Houses of Orange County Walking Tour "A wonderful Family Event" with Michael J. Kouri and see some of the most haunted abodes in person. These not so scary tours are perfect for Children ages 8-15 and adults 16 & Up. We offer Day and Evening Tour packages. Be one of a handful to investigate these sites with a real Psychic/Medium and find out why more people search for Michael J. Kouri to investigate their properties, interview on television shows and seek his help in Private Readings than any other Medium in the United States, today.

NOTE: Michael's Tours generally fill up 20 days prior to the dates so please reserve your place ASAP. Our Fall Calendar is almost completely full.

To see our current Tour schedule go to the Tour section of this website. To place your order or reserve a tour call our offices

Monday through Friday at (626) 791-1129 

Michael J. Kouri has done it again!

Haunted Houses of Pasadena has sold so overwhelmingly well, it is now about to enter its 5th printing! Due for release in 2012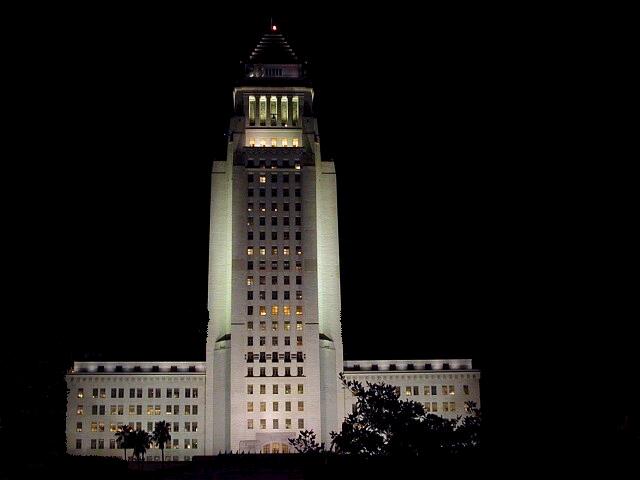 Haunted

  Houses

      of

     Los Angeles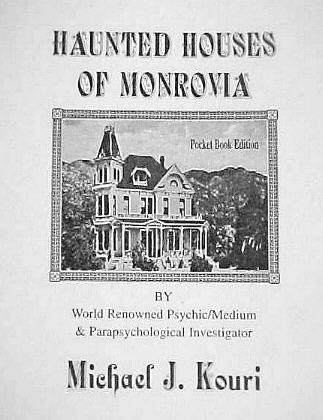 Haunted Houses of Monrovia has sold overwhelmingly well. He decided to create a special new Pocket Edition with new stories as well as the original tales of ghosts who wreak havoc throughout this historical city.

This new pocket sized version fits in any pocket or purse and is filled with over 125 pages of stories and photographs showing real ghosts Michael has caught on film throughout his career. Learn why Monrovian's feel that if your house isn't haunted, there must be something wrong with you.

This miniature book may look small but it is packed with real stories of real ghosts. Price: $24.95 + $5.50 shipping. Order your copy from Michael directly and receive a hand signed and numbered edition limited to the first 500 copies.  

We Now gladly accept: Mastercard, Discover & Visa credit or Debit Cards over the phone at our office. Simply call (626) 791-1129 to place your order .

Order several books to save on shipping fees. Gift Certificates available for the Holidays, too.  Email Michael at ICGHOSTS2@HOTMAIL.COM.

Haunted Houses of Pasadena $100.00 + Shipping fees

We only have a few copies of this edition left. Watch for the sequel of this book:

More Haunted Houses of Pasadena due for release soon.   



Want to ask Mr. Kouri a question about your Haunted experience or how to order a copy of his books?

Psychic-Medium ~ Published Author & Parapsychological Investigator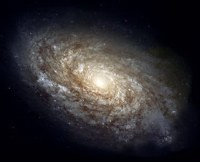 We're sorry but our shopping cart is down at the moment. To Order copies of Michael's books please Email us directly at icghosts@hotmail.com, or call our offices at

(626) 791-1129 (Pacific Time, Thanks!)




We Now accept Mastercard/Visa & Discover

Credit/Debit Cards

Haunted Houses of Monrovia Pocket Edition /Over 100 pages Price $24.95ea

While supplies last

Haunted Houses of Orange County, Michael's first version is

SOLD OUT! However a larger, more complete version is currently underway and is scheduled to be released in

October 2016

Haunted Houses of Los Angeles
chronicles some of the most interesting case histories Michael J. Kouri has investigated yet! You'll journey with him to historical destinations filled with spirits that until now have ever been professionally investigated and reported by Michael and his team of psychics and scientists. You'll actually be introduced to people who live in these haunted houses, theaters, retail stores, condo's, apartments and hospitals alike. You'll visit many old cemeteries known to have ghosts floating about and learn things you never knew were possible. We'll explore the cities within the borders of L.A. County including Valencia, Tinseltown, Burbank, Altadena, Long Beach, Norwalk and the San Fernando Valley. This 24- year research project is a MUST have for the consummate ghost book collector and historian alike. Read about early life in Los Angeles and the ghosts who fought in the battles who continue to do so today in the 21st Century. Visit a Civil War base where ghost camels wreak havoc with museum curator and guests and learn of the first American woman canonized a Saint who lives in the city of the Angels, Burbank and Sun Valley and who's ghost is seen everywhere.  Michael J. Kouri has published 13 books to date and dozens of stories in newspapers, magazines and other author's books, but now for the very first time you'll explore aspects of Los Angeles you never knew existed....You won't be able to put this book down.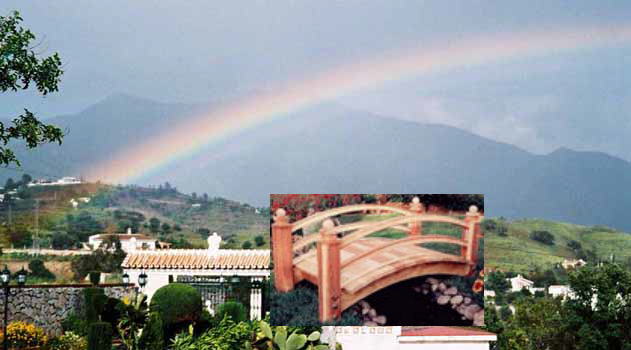 Journey Beyond the Rainbow Bridge

The Truth About Animal Spirits  &

Where They Go After Death

      By

Michael J. Kouri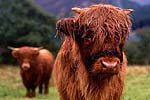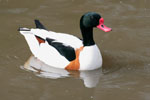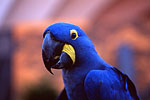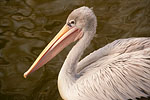 Journey Beyond The Rainbow Bridge   shares the true life encounters of animal spirits who seem to linger on the earth plane after their deaths.. You'll be amazed with the stories you read in this book because their not from an episode of the Twilight Zone, but real stories told by those who loved them.  Learn about the ghost of Bubbles the Hippo who was shot and killed in Laguna Beach when she was pregnant, how could her keepers not know that Hippos hibernate underwater...Then you'll encounter a couple who kept alligators as pets and how much the pets loved their handlers. Michael explains where animal spirits go after death. This comforting book will help thousands of people world wide to better understand how important our animal friends are here on earth and in the afterlife too. Read about the ghosts who haunt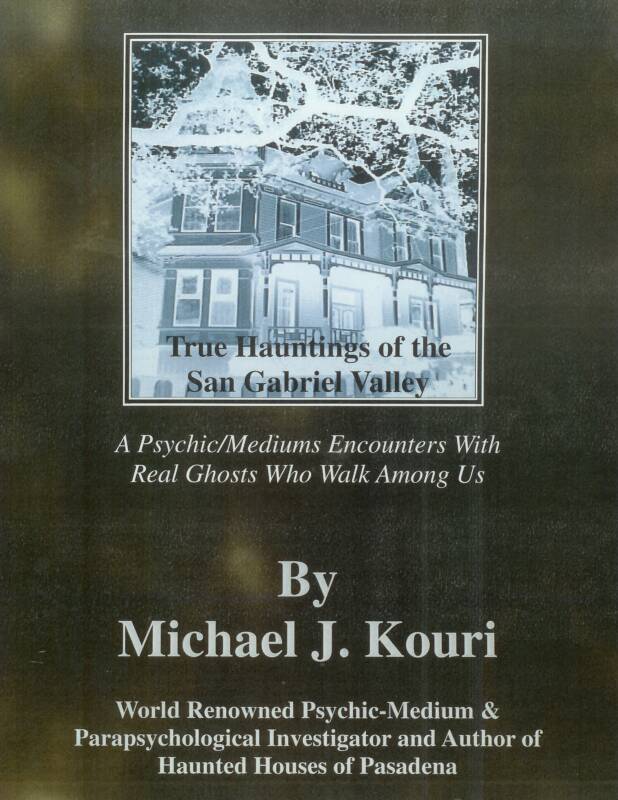 This book is due for release in the Fall of 2012.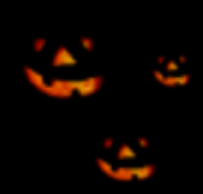 Michael J. Kouri has written and published 31 books, in his career.  You won't want to miss any of them especially if you're interested in Ghosts!

None of Michael's books are created with Ghost Writers, Michael investigates and writes his own books, in fact he's one of the only Psychic Mediums in the United States who does...

You'll definately want to experience Michael's earliest Supernatural Thrilers with titles including:

Haunted Alcatraz

Haunted Houses of Pasadena 4th edition, 5th Edition available June 2009

Haunted Houses Within The Azusa Township (very rare to find)

Haunted Houses of Monrovia (available in limited quantities)

Haunted Houses of Orange County  2nd Printing Available Fall 2009

Haunted Houses of Hollywood Scheduled for Release October 2009

His True Hauntings Series is filled with fascinating tales of a Paranormal Nature including such titles as:

True Hauntings of Glendale and Beyond  Released February 2008  &

re-released at the Alex Theater Lecture October 2009

True Hauntings Of Santa Fe Springs Released October 2006

True Hauntings of Huntingbn Beach and Beyond Released Summer 2008

                                                                                                                                           True Hauntings of Whittier and Beyond Released Fall 2008

True Hauntings of Glendora and Beyond Release Date August 2009

True Hauntings Of The Bay Area And Beyond

Scheduled Release Summer of 2014

True Hauntings At  The Whaley House, America's Most Haunted House

Scheduled Release Fall of 2015

True Hauntings Of The American Wild West

Scheduled Release Winter 2011

The Most Haunted Houses Series caries on the tradition of Michael's personal encounters with those unseen forces of electromagnetic energy and include:

The Most Haunted Houses of Pasadena (Pamphlet Version)

The Most Haunted Houses In Glendora Part I

Both of the Glendora books are Now part of the True Haunting series

The Most Haunted Houses In Glendora Part II

The Most Haunted Houses of San Diego County due for release in 2012

Michael's Historical Hauntings Series are truly amazing since they include the most accurate Historical and Psychic Stories on the Paranormal market today.

Historical Hauntings of the San Fernando Valley Due Fall of 2016

Historical Hauntings of Ventura County Due Winter of 2020

True Hauntings of Alcatraz Island  - A Psychic -Mediums True Encounters While Walking Amongst The Dead  Due Spring of 2012

Also watch for Michael J. Kouri's books on other topics including Healing, Collecting Antiques and Childrens Stories too:

Healing Yourself With Crystals and Other Natural Stones Spring 2010

Antique Toys for Ghouls and Boys- The Antique Toy Collection of World Renowned Psychic-Medium and Parapsychological Investigator: Michael J. Kouri

Available Christmas of 2012

The Adventures of Peg Wooden

Scheduled Release Summer of 2010

The Haunted Doll House (Available Now)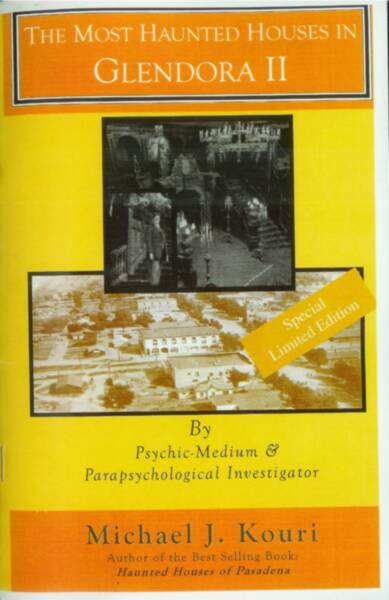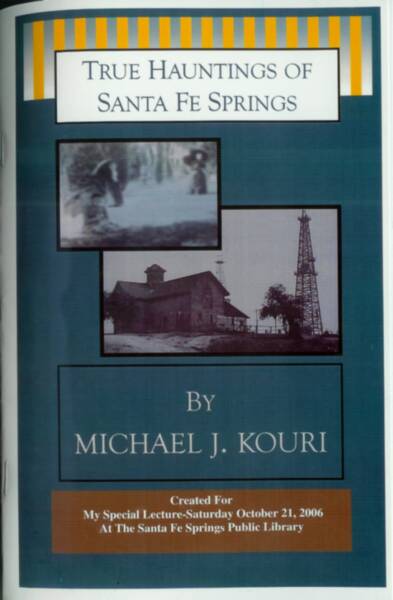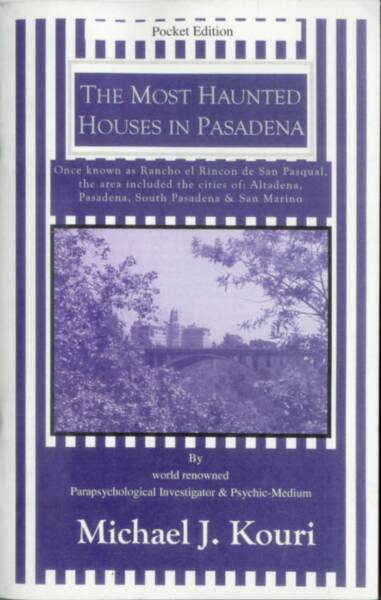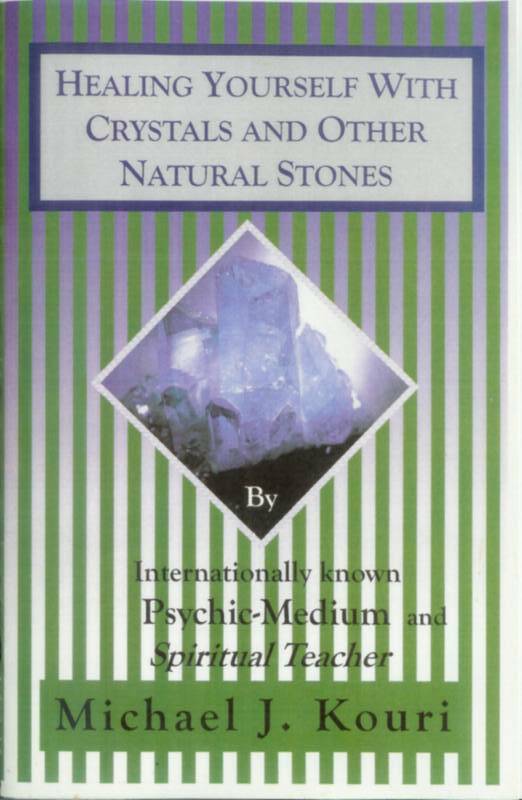 The Most Haunted Houses In Pasadena is a pamphlet version of the larger edition Haunted Houses of Pasadena, now being updated and about to go into its 5th printing!

This soft bound pocket edition was created for School Lectures and has a sampling of stories perfect for children, students and adults alike.

Over 40 Pages and dozens of photographs of some of the ghosts Michael has captured on film in Pasadenas Most Haunted Houses.

Price $24.95 plus shipping ( Sorry this edition is currently sold out Watch for the Full version which will be availale in November of 2014.)

PLEASE Call our offices for more information at (626) 791-1129 Mon-Sat from 10:00 am - 6:00 pm Pst or Email us at :

     icghosts@hotmail.com - Calling is always best!


  Order more than one copy to save on Shipping Fees. 
True Hauntings of Santa Fe Springs was written to coincide with a special lecture Michael gave at the Santa Fe Springs Library in October of 2006.

Over a hundred people attended the historical and haunted lecture and were dumbstruck when Michael showed slides of the very ghosts he captured on film while researching and investigating one of Los Angeles Counties most Haunted cities.

Here you'll explore the history of the Lady in Black, the ghost who haunts a modern day library and disembodied spectors who float through City Hall, Heritage Park and much, much, more.

You Might NOT want to read this book after dark...

Suggested Retail Price:

$24.95 while supplies last

Healing Yourself is Possible espeically if you believe it to be truth.  Here Michael teaches you the basics of how to heal headaches from common to Migranes, how to alleviate the stress in the body, and even how to grow crystals yourself.

In this comprehensive book, you'll learn the healing properties of common crystals from Amethysts, Diamonds, Rose Quartz, Obsidians, Lapis, Tigers Eye and many more...

This is a Must Have book for any Alchemist library.

Suggested Retail Price: $24.95 plus shipping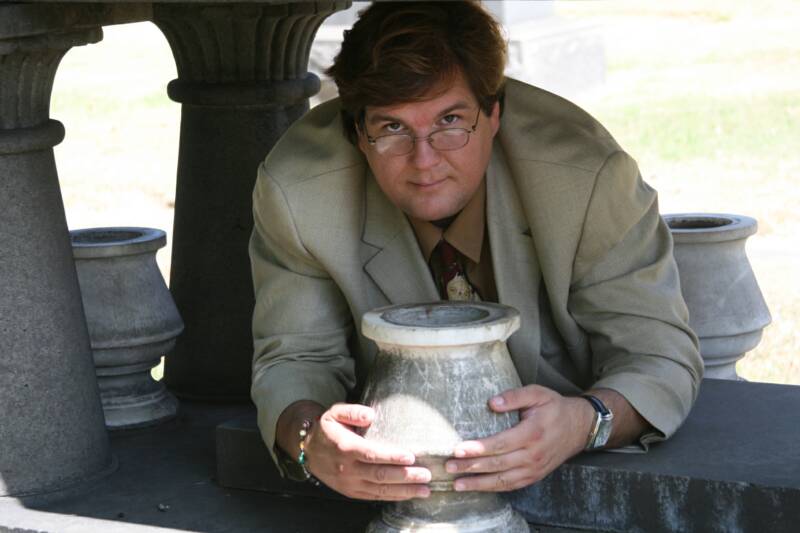 Michael takes his work very seriously

Going where most have never dared

as he investigates the most

        Haunted Hot Spots in the world

Both editions of The Most Haunted Houses In Glendora will amaze, stimulate and delight everyone who loves ghosts stories, especially stories from local towns such as Glendora. This is one of the most historicaly haunted cities in Southern California. I originally wrote Part 1 when I was invited to lecture for the Glendora Public Library. What I encountered while investigating this town was astounding. The Movie Stars who lived here including Mary Miles Minter, Sally Rand, Rudokph Valentino and Norma Talmadge... All of their ghosts haunt here including those of maids, gangsters, mayors and even animal spirits.  Yes, True Hauntings in Glendora reveals ghosts and ghouls that haunt the Mansions to Bungalows, Churches, Schools, Parks, and businesses, too. The Village Book Shop is featured in Part II. 36 pages in each edition.

The Haunted Doll House is available in its newest pamphlet form and is sure to both delight and entertain the armchair ghost hunter, the miniature or doll collector or those intrigued with the stories of real ghosts, alike.

This book chronicles the TRUE stoey of one of the most bizarre Haunted House Investigations Michael has ever encountered in his nearly 30 year career.

You'll learn of a child spirit who attached herself to her childhood doll house while she lived in England and why she felt the need to stay with it for nearly 80 years.

Is it possible for a spirit to accompany an object like this.... You'll have to read all about that in this lovely little paperback book. This unique Novelty Pamphlet book with 45 pages comes hand signed and numbered for just $24.95 plus shipping and insurance.

              ***NOTE***

Our Shopping cart is currently down, Please contact our offices at (626) 791-1129

Mon-Fri 10am-7pm PST to order copies of Michael's books. We gladly accept Credit & Debit cards over the phone. Thanks! Direct Email: ICGHOSTS@HOTMAIL.COM

Due for Release Winter 2016

Haunted House - Ghost Tours of Pasadena, Orange County, Hollywood & Specialty Tours, See the TOURS page for our current Calendar

Michael has done it again with this new and exciting look into the world of the Biker.  This book chronicles those spirits who have died on their bikes or in other ways, but who continue to ride the hightways of California on their bikes. Most people can't see these phantoms of the highways, freeways, and mountain passes except when the ghosts themselves want you too, but Michael J. Kouri, World Renowned Psychic-Medium and Parapsychological Investigator can.

More people die on Murder Cycles than in any other type of auto accident in the United States, yet motorcycles draw people of all walks of life from 1 percenters to 99 percenters, Outlaw Bikers to wealthy socialites, Movie Stars and  average people alike.

This is a Must Have gift for anyone interested in Ghost's & Motorcycles.

Price: $34.95  Each copy comes hand signed and numbered. Be sure to let us know who Michael should sign your books too. 

  Channeled Recipes of a Psychic-Medium and His Supernatural Friends

The Cookbook with Spiritual Stories, too...

A cookbook with recipes from some of Michael's Favorite Spiritual People, famous Psychics, Astrologers, Mediums, Parapsychologists and many other interesting people you need to know. Also included are  stories of how they met Michael, Television Shows they've appeared on together and even some Recipes Michael has channeled through the years in his Communication Circles (Seances) If you enjoy cooking, you won't want to miss out on this Deliscious book of a Ghostly Nature.

Price: $27.95 plus shipping

Each comes signed and numbered in this limited edition of 10,000 copies.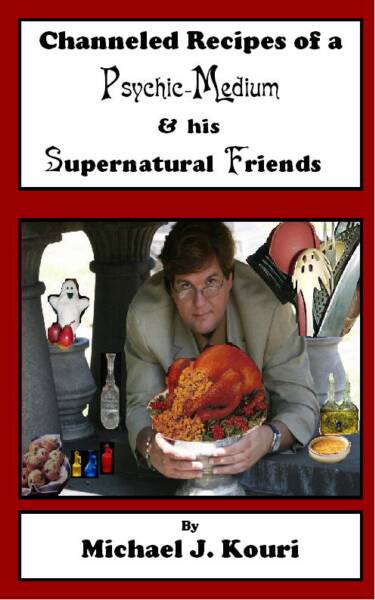 The Cookbook with Ghost Stories

Call our office to order copies of Michael's books at

(626) 791-1129

Order more than 1 copy to save on shipping fees. Everyone loves Michael's Ghost Stories & they make wonderful Gifts too!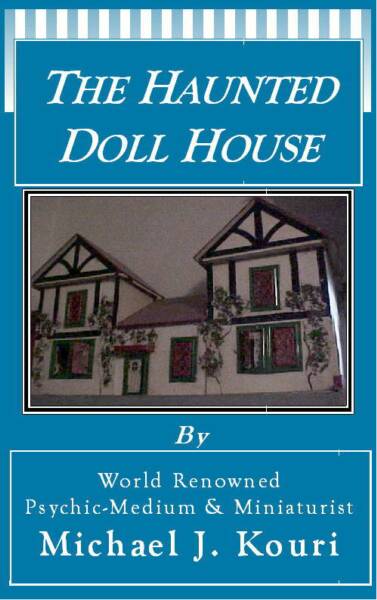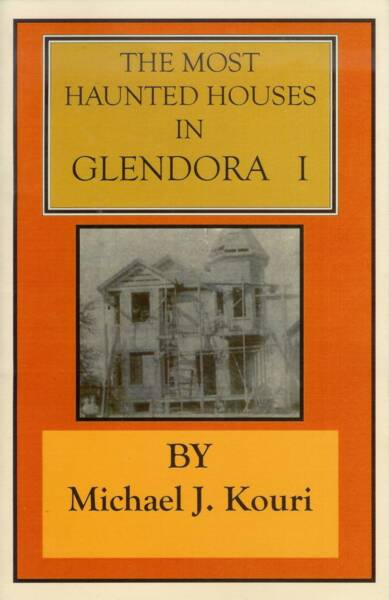 Part II Continues to reveal and delight with tales too scarey for the campfire because they're all True. Join me as we snoop around the for headquarters of the Daughters of the American Revolution mansion once open for Public Tours, until they discovered their ghosts and are afraid of the sprits retaliation from opening her home to the outside world. Learn about the piano that plays itself with the lid of the keys down and of the retarded child said to inhabit the secret room...

Did you know there is a haunted castle in the hills of Glendora? You'll hardly be able to put either edition down while reading The Most Haunted Houses in Glendora... Price for either edition: $24.95 or both for $35.99 plus shipping. 36 pages in each edition

Vendor and Wholesale Order Policies and Terms:

We welcome Vendor and Wholesale Orders and ship to book sellers around the world who are interested in carrying Michael's books, CD's and Jewelry.

We offer competitive discounts to sellers with a Valid Resale License and discounts depend on the volume of products ordered. We charge accurate shipping based on your zip, postal or country code, a modest handling fee, Insurance and Delivery Tracking Services are Required on all orders to protect both our interests.

Returns: We will accept returns and only offer refunds on merchandise returned in the fine condition it was shipped in. We charge a 30% restocking fee on all returned merchandise and will not refund shipping, handling, insurance or tracking fees and return shipping is at your own expense.

We Gladly accept payment by Mastercard, Visa or Discover Credit Cards, Personal, Business or Bank Drafted Checks, however all sales outside of the continental United States Must be paid by Credit Card (which ensures you the lowest exchange rates).

Should your shipment get lost in the mail, and if you've paid with a Credit Card, please do not request a ChargeBack from your bank without first contacting us by telephone, email, or snailmail. Please Contact us Immediately so we can contact our shipping provider and put a trace on the shipment. Should the shipment be lost, we'll file an insurance claim with our shipping service and once the insurance is paid to us, we'll issue you a refund.

If a chargeback is issued without prior contact to us, you will also be charged any fees associated with the chargeback including NSF fees charged to us by our bank. Please contact us immediately if you suspect a problem with your order and let us help you with it before taking matters into your own hands.  Thank You!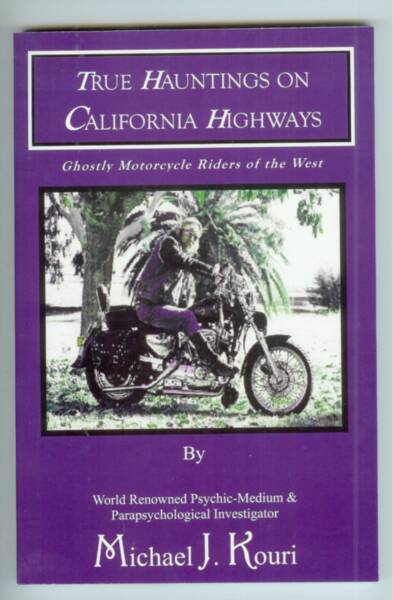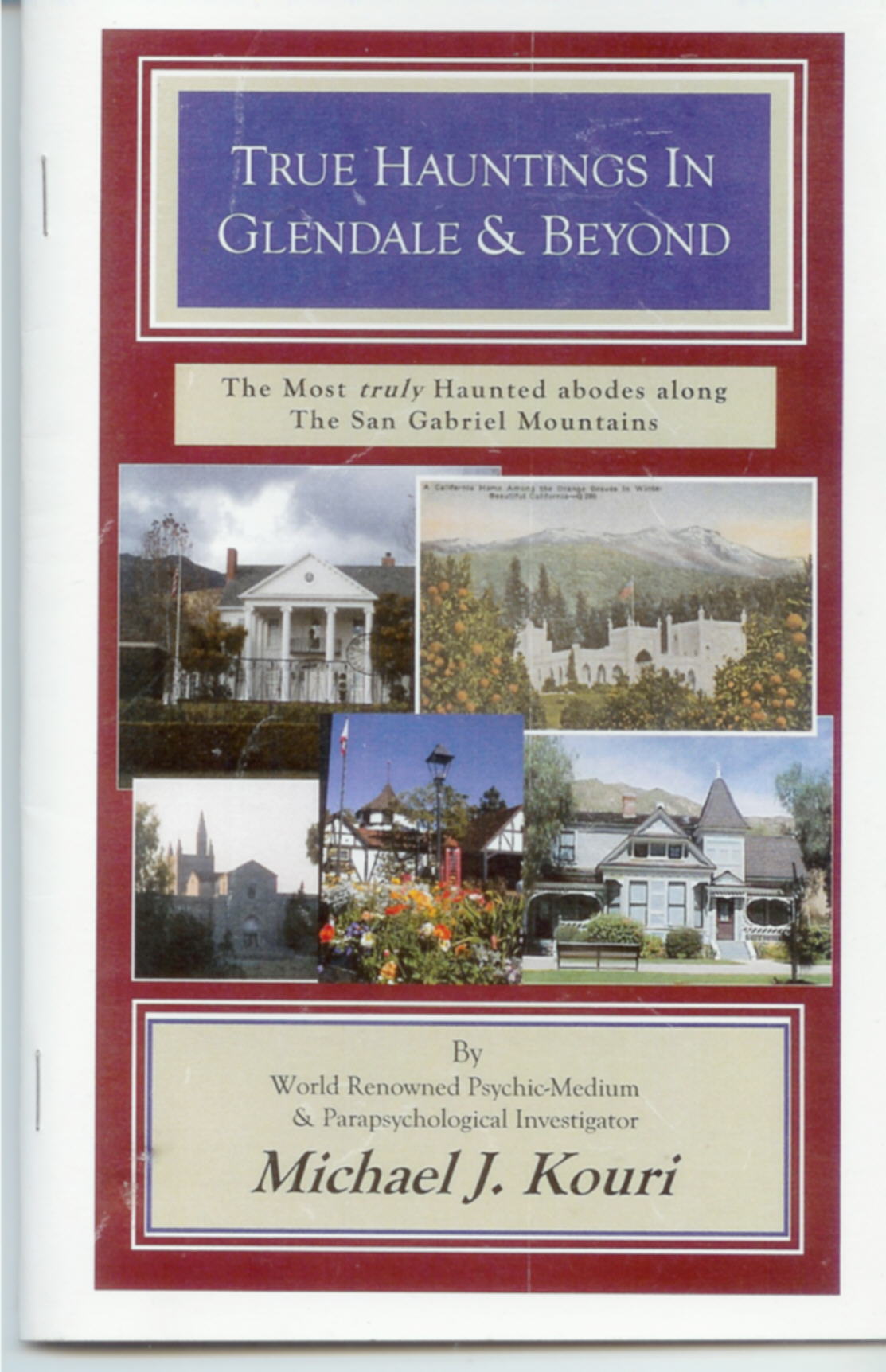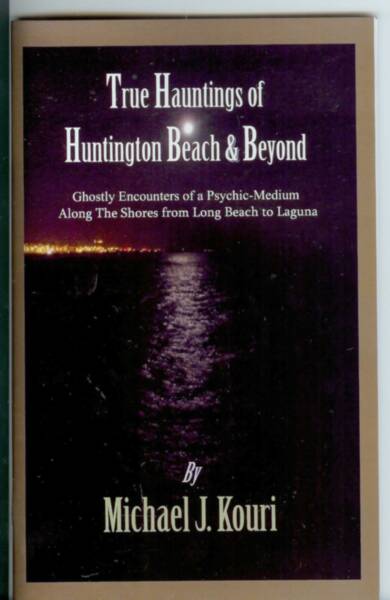 Come and visit Glendale California and learn of its most beautiful historic mansions, it's perfectly manicured lawns and its creepy hidden secrets of a paranormal nature never mentioned in a book until now.

It may be hard to believe that one of Los Angeles oldest cities is also haunted, but Psychic-Medium Michael J. Kouri proves it in this wonderful new book!

Michael actually lived in Glendale for many years and worked at a real estate office in town where he was able to visit many of the historic and classic homes listed in this book. He was the first male and student docent to work at the Doctor's House museum up in Brand Park and know's of its ghosts first handNow you'll learn about them too - if you can handle it!

Join Michael as an Armchair ghosthunter as you read about all of the spooky places Glendale has to offe including Haunted Hosptials, Restaurants, Museums, The Alex Theater where Michael investigated and reported his findings when he lectured there in October 2009 as seen on the KRLA morning News. You'll also learn of the spirits who haunt Schools, Homes and the ghosts who make the famous Glendale Civic Auditorium home long after death .

Price $27.95 plus tax & shipping

While Michael has written a book on Orange County and its most haunted dwellings, he wrote a special  book about the True Hauntings of Huntington Beacn & Beyond. This is the first time a book has been written solely on the spirits who haunt Southern California's Coastal Communities.

You'll love the book, especially if you enjoy learning of real haunted houses, piers, caves, tunnels, houses, antique shops, Biker bars, Surfers and Mermaids, too.

Dare to join Michael on his newest tour of this town....Clicl the Tour button at the top of this page for the most current dates, times and pricinging, too. Only a handful of the stories on his tour are in this book, so you'll need to take the tour and read the book to learn about all of the most creepy spirits who haunt Surf City ...

Book Price $27.95 plus tax & shipping

Be sure to look for copies of Michael's books

At

The Village Bookshop

125 North Glendora Avenue

Glendora, Ca 91741

(626) 335-5720

Current books can be found on this website by clicking on the Book tab at the top of any page

Haunted Houses of Hollywoodland

Michael's 30+ year research project

Is now a Book! 

Price $39.95 +tax and shipping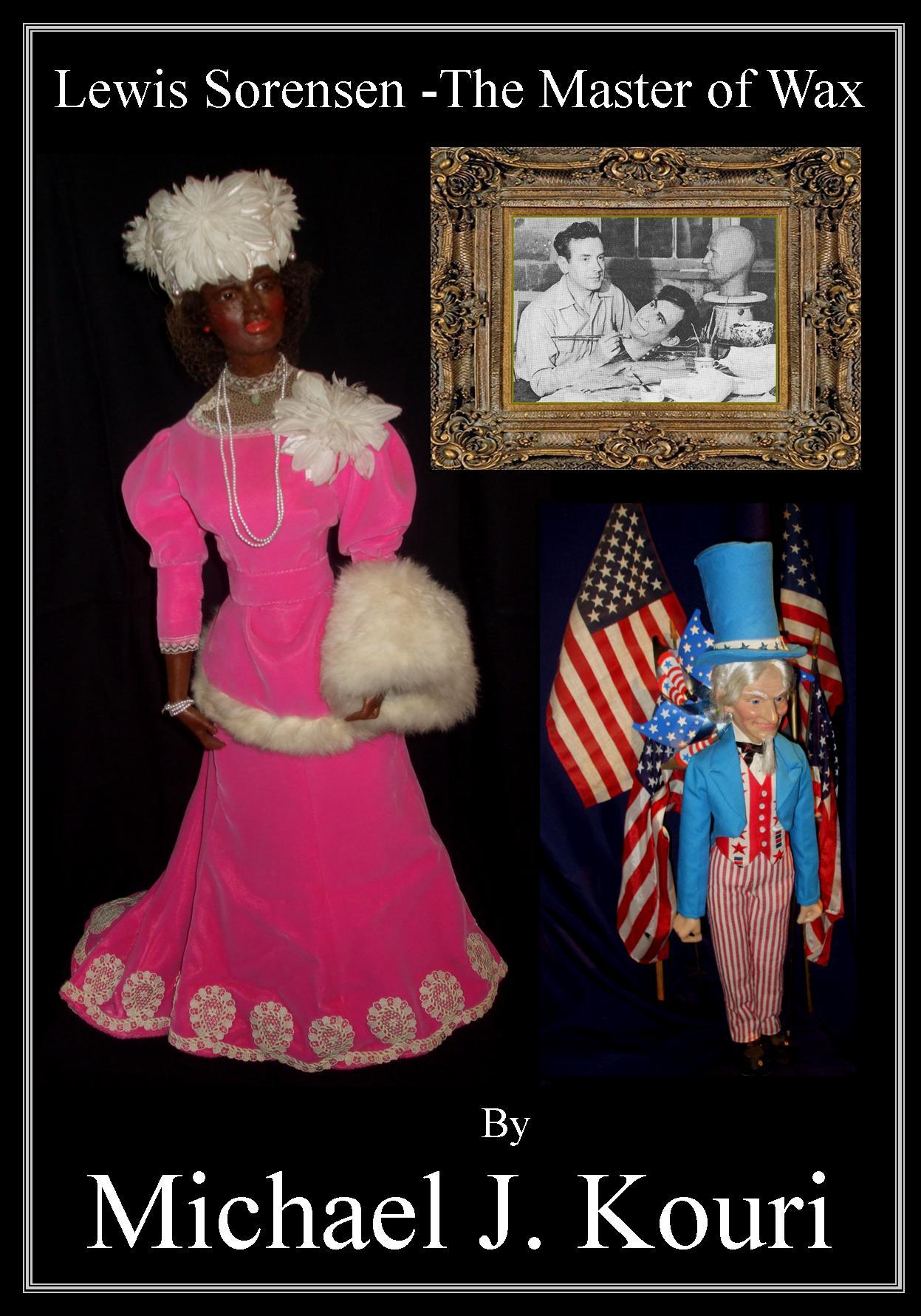 It's Finally Here!  Lewis Sorensen - The Master of Wax, is a comprehensive book of the life and work of one of the most famous Wax artisans of the 20th century.

Michael researched his life and legacy for more than 11 years and now releases his book to everyone interested in dolls and ghosts! That's right!  Price: $40.00 +shp .

.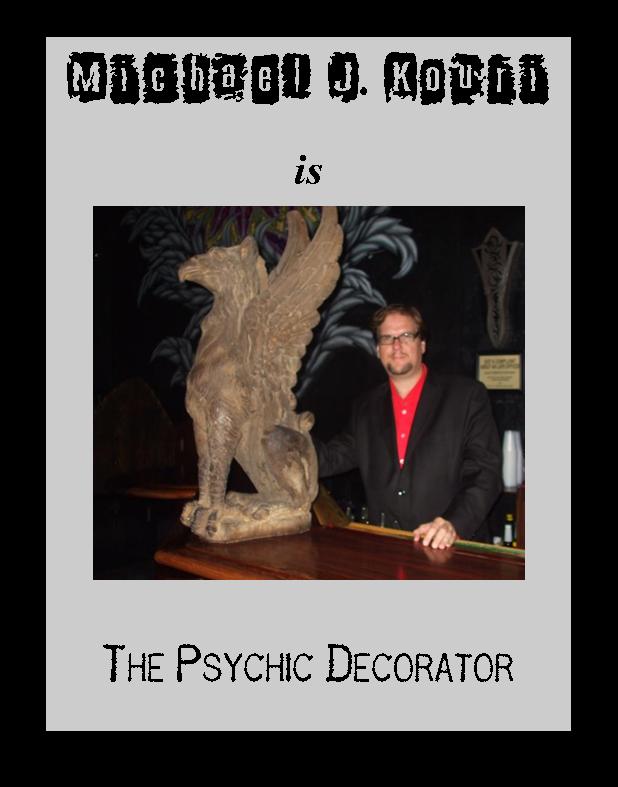 Michael J. Kouri Is

The Psychic Decorator

Price $24.95

Gift Certificates Available for Books, DVD's Ghost Tours,  Private Readings & more.

Call us for more details at

(626) 791-1129

  Our shopping cart is down.

What is it about Hollywood that fascinates so many people around the world? For those of us who live here, Hollywood is an ever spinning, always changing place of borh fantasy, and reality mixed with doses of personal hardship and tragedy of unbelievable proportions. And that's where Psychic Medium Michael J. Kouri comes in. Michael is one of the only Psychic Mediums in the world today who writes his own books about his incredible encounters with ghosts. During the past 32 years Michael has peronally visited every movie and TV studio in Hollywoodland, and was given carte blance to their eerie secrets, which he reveals in this fascinating new book. Sure there are other books on the ghosts who haunt tinseltown, but nothing like the books that Mr. Kouri pens. Michael uses liberal doses of history, along with personal interviews of Top celebrities, agetns, managers, studio guards, employee's and anyone who has anything to do with the industry.

Michael's editors describe his writing style as "Steinbeckian" as he introduces us to some of Hollywood's most famous and infamous ghosts of illustrious movie and music legends, and average people alike who haunt the TV and Radio Stations, Soundstages and Facades of all of the studios, personal homes of the stars and more.

This is the first book of its kind to reveal the paranormal occurrances of super stars like Whitney Houston, Michael Jackson, Dick Clark, Elizabeth Taylor and many, many, more stars who've died in recent years, but for some reason refuse to leave the earth...Why do they haunt the sites where they died, or the homes they lived in, or the very studios they worked at or recorded in?

Michael reveals the answers & more in this book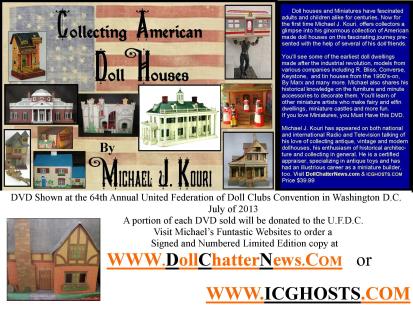 Collecting American Doll Houses is the new DVD produced and created by Michael of his Antique Doll House collection and shown at the 64th Convention of the United Federation of Doll Clubs in July 2013.  You'll watch as Michael's Ball Jointed dolls made by the Tonner Doll Company, and Mattel take you with them in their time machine as they search the nation for antique to modern doll houses made in America. Copies are just $29.99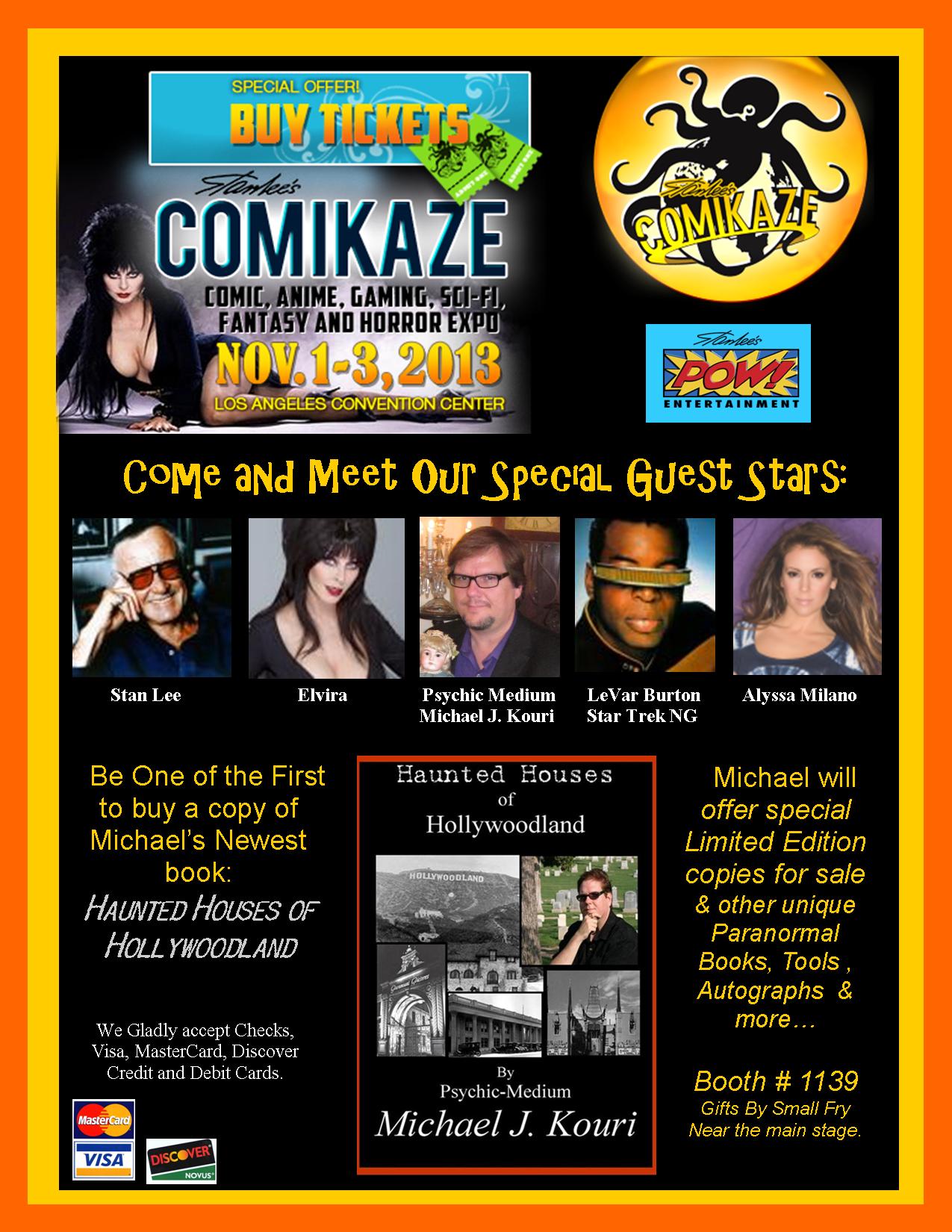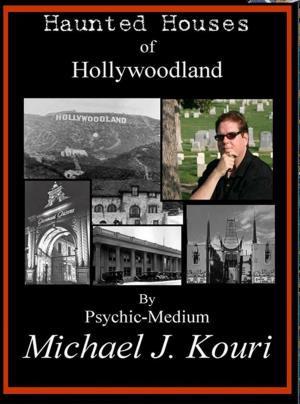 Did You know that Michael Offers Private In-Person, Skype or Telephone Psychic Readings???

Contact us directly for

Pricing in your area...

Email:

  ICGHOSTS@HOTMAIL.COM

Or call us at

(626) 791-1129 PST

Michael's Newest book The Ghost of Walt Disney & Me

Released on Halloween Day 2014.

This book contains a fascinating collaboration of Ghost stories based on the life of

Walt Disney which have been gathered and researched by Michael J. Kouri, who turned over every rock, and tombstone, visited every inch of  the rides and attractions at Walts beloved Disneyland, his movie studios in Burbank and Glendale, Ca., his former homes, and the very places he loved to visit and dream throughout his life. Some of these Southern California landmarks were the inspiration for the theme park created in his honor.

Michael personally interviewed hundred's of people who knew "uncle Walt" - many of whom saw Walt after his death in 1966 and continue to see him to this day. You'll hear from composers, directors, family members, employees of his theme parks, studios, inhabitants of his former homes, his apartments and more. These people were interviewed during their lifetimes. Did Walt Disney believe in the Supernatural? Was his body or brain really frozen after his death? The answers to the legends, superstitions and personal accounts from people who truly believe that Walt's spirit lives on, are chronicled in this fascinating new book as only Michael J. Kouri can tell them.

This is his 56th book and is sure to deliver some creepy accounts that will make the hair on your arms and neck stand at attention - Julia Andrews, Actress.

Even if you don't believe in Ghosts, you Might after reading this fascinating book!

With a Forward by one of the last real Animators to draw by hand, who was trained by Walt's Nine-Old-Men and worked on the Walt Disney Studio lot and others throughout his fascinating career.

Don't want to Call us to place your order? No problem Email us your order at icghosts@hotmail.com  We are a business and can process your credit/debit card directly, saving fees we'd have to pass on to you from sites like Paypal. Copies of this new book are available on Ebay.com as well. 

Michael J. Kouri has written hundred's of articles about his unique research with the Paranormal. Collecting, Antiques, Healing, Decorating, Gardening, and many of his other interests, too. You may have seen this world famous psychic medium  on the national and international TV shows he's appeared on or heard him talk of his experiences of investigating haunted houses over the radio, or at his live lectures around the country. Michael J. Kouri is the only psychic medium today who writes and publishes his own books, and this is his 56th publication throughout his illustrous career. He has appeared on Oprah, The View, 20/20, Home and Garden Channel, ABC, NBC, CBS, KTLA, Coast to Coast and many more... Michael is also available to be the Public Speaker for your fundraiser and travels extensively lecturing to universities, hospitals, historical societies, service clubs and Disneyana themed clubs, too.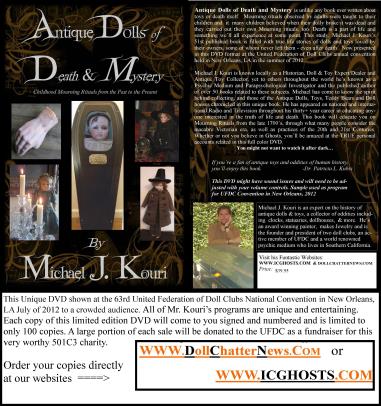 Another Exciting DVD created by Michael to showcase his interest and fascination with Victorian Mourning artifacts, but especially dolls loved by children, who believed that when their dolls broke they died and they created funerals for them. Mourning rituals have been observed since the beginning of recorded human history and this DVD chronicles them, a Fascinating body of work to enjoy.

Price $29.95

Price $39.99 plus tax and shipping. add text.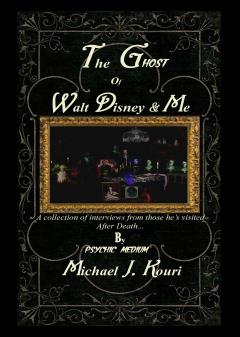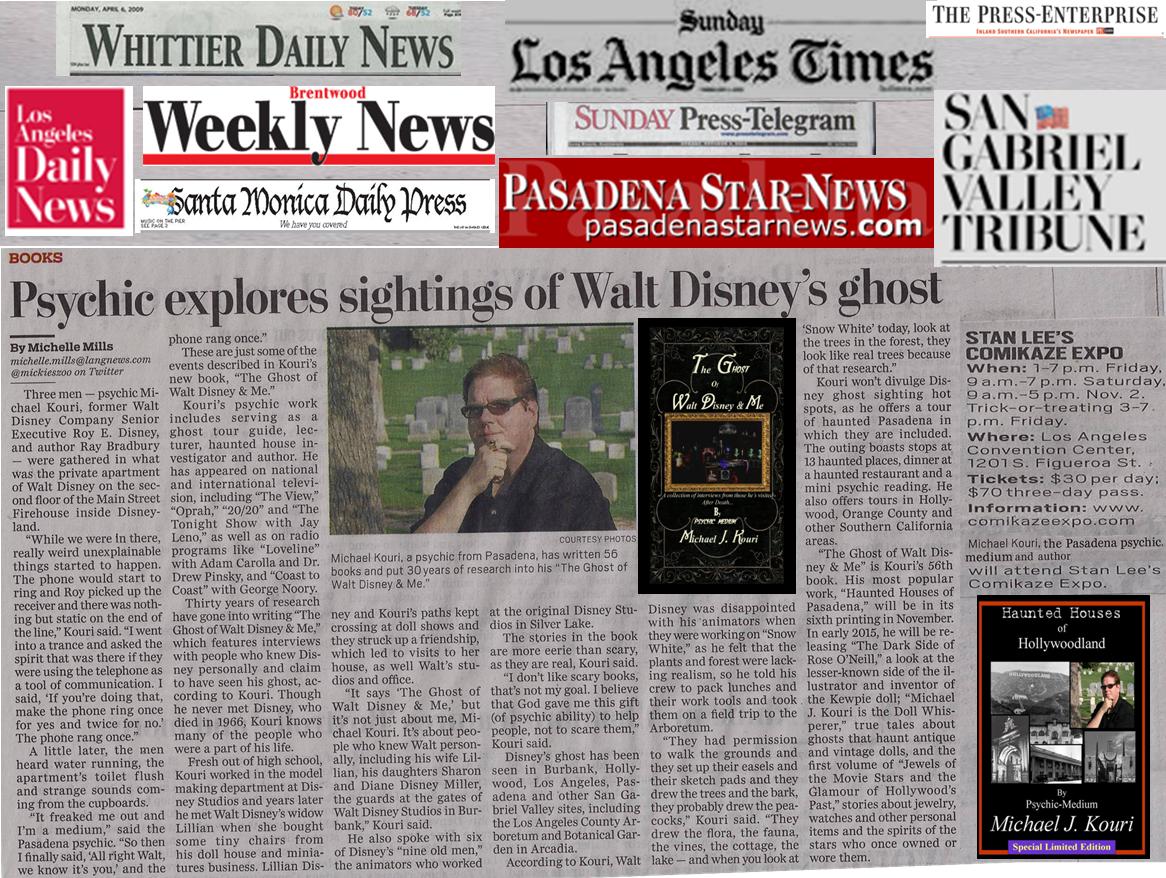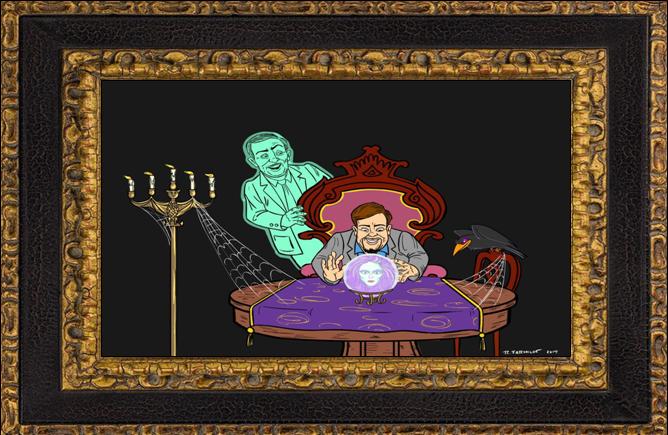 The Ghost of Walt Disney & Michael J. Kouri can be purchased in one of these very limited Edition Giclees for just $145.00 each. 8-1/2" by 11" each come to you signed and numbered by Rick Farmiloe and Michael J. Kouri. Unframed. add text.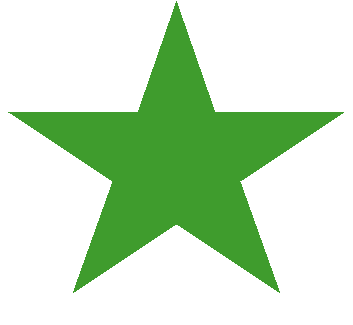 Sorry, but our Shopping Cart is down...

to place your order for our books, &

     more. Please email us at

         icghosts@hotmail.com

                          or

             Call us directly at

              (626) 791-1129

       We accept Credit/Debit Cards

              directly and Securely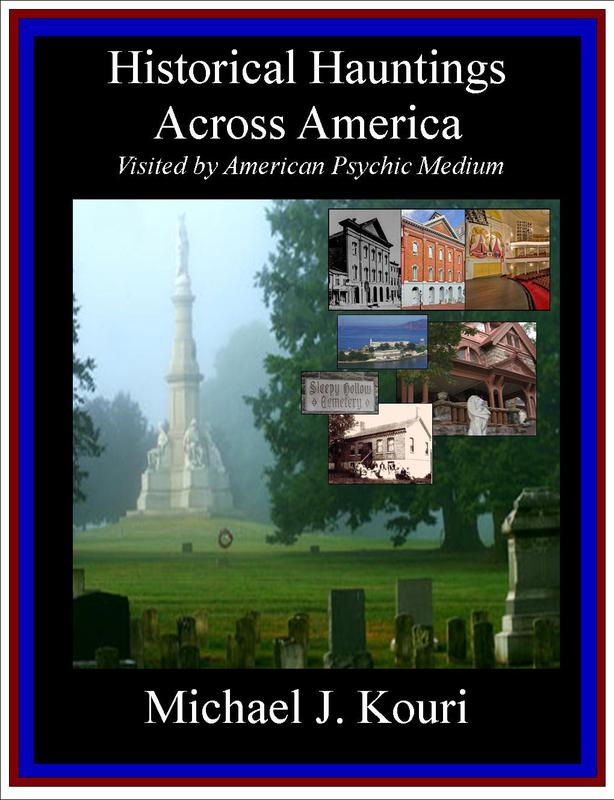 One of the books I've been working on from the beginning of my career as a Psychic Medium and Historian, is soon to be released:

Historican Hauntings Across America, will share the tales of some of the most truly haunted hot spots around the United States, that I have had the privledge to investigate. Some of these sites were shown on national television shows, while others have been kept secret until now...

You'll join me and my team of paranormal investigators, and friends as we search for ghosts said to haunt these hallowed halls of history. Projected release date: May 2015.